The ZGP-15 floor box consists of a two-piece body with a cover equipped with a bayonet-spring locking mechanism ensuring tight closure of the box after turning the cover by about 10 ° . The dimensions of the floorbox have been selected so that it can be mounted in a hole made with a diamond drill with a diameter of 150mm. The floorbox can only be opened with the use of a special ZGP-K key. In the lower body, from the side, there are 3 cable entries Ø25 mm for inserting wires or installation pipes. To facilitate the assembly and leveling of the floorbox, there are adjusting screws at the bottom of the box.
Set contains:
top cover with a gasket and a K-ZGP key lock,
upper body,
mounting plate with accessories according to the table below,
lower body with 3 cable entries Ø25 mm,
bottom cover and adjustment screws
When ordering, one ZGP-K key is included for every 5 floor boxes.
Floor boxes can be used for floors with any surface finish, e.g. porcelain stoneware, natural stone, concrete, carpeting and others, in places with high humidity / dustiness, exposed to loads of even very high values up to 25t. The surface of the cover is finished with an anadized aluminum alloy, which makes the cans highly aesthetic and resistant to chemicals, so they can be installed in representative places with high traffic. High tightness of the set is achieved only after the can is completely closed with the key.
Technical data:
| | |
| --- | --- |
| Weight: | 2,3 kg |
| Dimensions: | Ø150x100, 140, 150 mm |
| Material: | Aluminum PA4, upper part with anodized cover |
| Degree of protection: | IP67                 [PN-EN 50085-1:2010, PN-EN 60529:2003] |
| Impact resistance: | IK10                 [PN-EN 50085-1:2010 points 5.8, 10.3.2, PN-EN 62262:2003] |
| Pressing force: | <250kN          [PN-EN 50085-2-2:2009 item 10.5.104] |
Note: the selection of specific equipment requires the use of a floorbox of an appropriate height to ensure sufficient installation space inside.
The table below illustrates the possible equipment depending on the height of the floorbox.
Order number depending on height and equipment:
height:
equipment:
H=100 mm
H=140 mm
H=150 mm
Description of equipment
22E
ZGP-1510-22E
ZGP-1514-22E
ZGP-1515-22E
2x socket 1 phase 1x16A+N+PE, PA
23E
ZGP-1510-23E
ZGP-1514-23E
ZGP-1515-23E
1x socket 1 phase 1x16A+N+PE, 2x adapter RJ45, PA
24E
ZGP-1510-24E
ZGP-1514-24E
ZGP-1515-24E
2x socket 1 phase 1x16A+N+PE, 1x adapter RJ45, PA
41E
ZGP-1510-41E
ZGP-1514-41E
ZGP-1515-41E
1x socket 3 phase 16A+N+PE 400V, PA
42E
ZGP-1514-42E
ZGP-1515-42E
1x socket 3 phase 16A+N+PE 400V, 2x adapter RJ45, PA
51E
ZGP-1514-51E
ZGP-1515-51E
1x socket 3 phase 32A+N+PE 400V oblique, PA
52E
ZGP-1515-52E
1x socket 3 phase 32A+N+PE 400V straight, PA
61E
ZGP-1514-61E
ZGP-1515-61E
1x socket 3 phase 50A+N+PE, PA PA to an external adapter
62E
ZGP-1514-62E
ZGP-1515-62E
1x socket 3 phase 50A+N+PE, to an external adapter, 2x adapter RJ45 , PA
Additional accessories:
ZGP-15-PP raising ring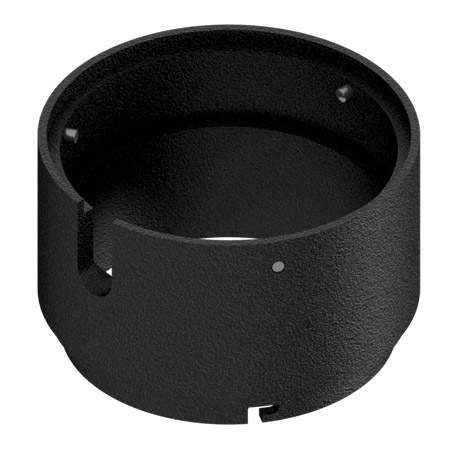 it is used to protect the inside of the floor box (when connected receivers) against contamination, e.g. dirt or water with cleaning floor machines. The ring is mounted o n the floor box using lid locking mechanism. The cover, on the other hand, is mounted on the the ring in the same way as in a floorbox . Derivation cables to the receivers is then carried out via a special for this purpose, a prepared hole in the ring.
ZGP-15-AZ external adapter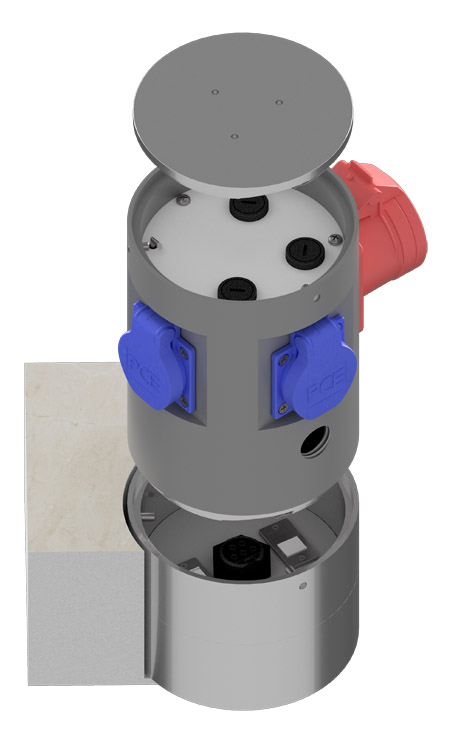 is a set of sockets mounted on a cylinder-shaped tube with a diameter floorboxs. The set consists of two single-phase 230V sockets with a cover and one 3-phase socket 16A 400V. The adapter is connected to the floorbox with a plug to the socket 3-phase 50A mounted in a floorbox. The adapter housing has cable entry hole for connecting to RJ45 sockets. The locking mechanism is the same as in the floorbox, which enables the installation of the floorbox cover on the adapter, which protects it against dirt or unauthorized access.
Datasheet (.PDF):
datasheet ZGP-15 ADUS.pdf